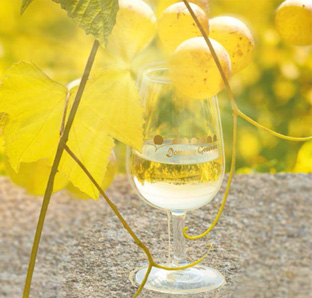 White Wines
Le Villette
Lavaux AOC, This white aperetif wine is characterised by its freshness and mineral bouqet, revealing the uniqueness of the soil in the vineyards, ideal for aperitifs and fish dishes.
Clos Genévaz Grand Cru
Clos Genévaz is south-east of the village of Grandvaux. This exceptional position gives a maximum of sun. This fruity wine, with a fullness and depth will marry easily with high gastronomy.
Epesses
Coming from the great soils typical of this region this wine likes to mature in its vat or in the bottle revealing itself fully at the end of the summer. With an aperitif, as an acompaniment to fish, cheese or fondue, this great wine has nothing left to prove.
Doral Tradition
This white wine comes from a cross between Chasselas and Chardonnay. With floral acacia notes, a full mouth, full body and citrus notes as well as a persistence in the end. It is delicious to accompany starters whether fish or game.
Doral Reserve matured in the barrel
With a nose of white flowers, vanilla, toast and fresh butter. A mouth which is round, full and with notes of flowers, melon, and toasts with a tannic aftertaste. Served at a temperature of 12 degrees it works wonderfully with fish, soft cheeses and fruit tarts.
Rosés
Oeil dePerdrix
This rosé comes from Pinot Noir grapes pressed in white. Rich, fruity and good in any season for any reason.
Red wines
Pinor Noir
An authentic Pinot Noir, with its excellent fruitiness and depth, its colour and silky tannins. Pleasant when young, it opens itself even more after a few years, an ideal accompaniment for meat and cheese.
Renardeau Composition of Diolinoir, Gamaret, Garanoir, matured in oak barrels
With a deep and intense robe and and purple tinges, its bouquet opens to the nose with all its complexity, black cherry flavous and candied black-currants, with final spicy notes. In the mouth it is full and round, revealing spices, black fruits, and caramel, with firm to dissolved tannins, with a mineral aftertaste.
We advise that this wine be decanted 1 hour before being enjoyed with red meat, game or hard cheeses.
Champ Noé Assemblage de Diolinoir et Gamaret
Its color is sustained with fresh fruits and spicy notes, it expresses its unctuousness in mouth with present and dynamic tannins. Ideal for grilled meats and aperitifs, but also suitable for meats in sauce or various fondues.
SPECIALITIES
Les Perles de Lavaux Speciality sparkling wine made in the traditional method
Sparkling wine, blanc de blancs, elaborated with artful knowhow, it will flatter your taste-buds and give your meals a festive and sparkling touch.
Grandvauxgnac Wine brandy of the Domaine 43 degrees
Marc ou Lie  Production of the Domaine 43 degrees
Wine making
Les vendanges, c'est le moment le plus attendu de l'année ! Les grappes sont bien mûres et arrivent à la cave où elles sont réceptionnées selon leur cépage.
Chasselas passes through a crusher before going into the press from which emerges a must full of sugar.
Les rouges vont suivre un chemin différent : les raisins sont égrappés, le moût et les grains sont placés en macération. La fermentation apportera le fruité et donnera la couleur et les arômes et les tanins au vin en devenir.
For the Rosé, the operation is the same as for Pinot but only a few hours are required to achieve the lighter colour. After this short maceration the pulp is pressed and the juice is placed into vats.
Par la suite, il se passe différentes actions à la cave afin de contrôler la fermentation et éviter les faux goûts. Les moûts sont levurés après avoir été clarifiés. Pendant cette opération, les caves sont chauffées puis refroidies , il faut maintenir une température entre 15 à 20 degrés.
During this first fermentation the yeasts transform sugars into alcohol. While this is going on the vats bubbles, this tells is the state of the fermentation. Decanting, dredging and a control of the remaining sugars are then on the agenda.
The second fermentation, known as the malolactic fermentation, then begins and transforms malic acid into lactic acid. "The Second" finishes at the end of the year and from January it is possible to start the much awaited tasting - the wine is still cloudy but the initial flavours are already present and give us a preview of the new vintage.
The wines are then clarified by filtration which allows us to judge what is to come.
Tasting remains the principal tool of the wine maker. It is important to follow the evolution of the wines with a trained palate and this is supplemented by chemical analysis.
The wine is finally ready to be poured and most importantly tasted. Cheers!
The Vineyard
The wine-making year starts in autumn, once the grape harvest is over and the equipment put away we arrive at St Martin's day and the beginning of a winter of hard work.
Pulling up old vines, preparing the ground, repairing the walls. The first frost is certainly felt, the sap has fallen in the vines and it's time to trim.
From the end of March to the beginning of April the vines start to revive and with them the whole ecosystem, planting and preparations for the new season can begin.
In May the vines start to bud and there are buds everywhere. It is necessary to remove the useless growths in order to help strengthen the others, in the local dialect this is called "éplaner", a way of regulating production.
In June, the vines grow and flourish. The branches must be attached to props or passed through wires, the crucial moment of flowering approaches bringing its promise and fears.
In July and August the vines grow up to 5 to 10cm per day. They must be pruned, furrowed and have excess grapes removed in order to ensure the best possible quality wines.
September is a quiet month for wine growers, on the vines we watch as the grapes swell and ripen. There is work to be done in the cellars where the press must be prepared
At the end of September in exceptionally hot years, or more normally at the beginning of October comes the time of grape harvesting. The grapes are ripe and ask nothing more than to be picked, it's also a time of celebration at the press as we watch the juice flow, the result of a years hard work.